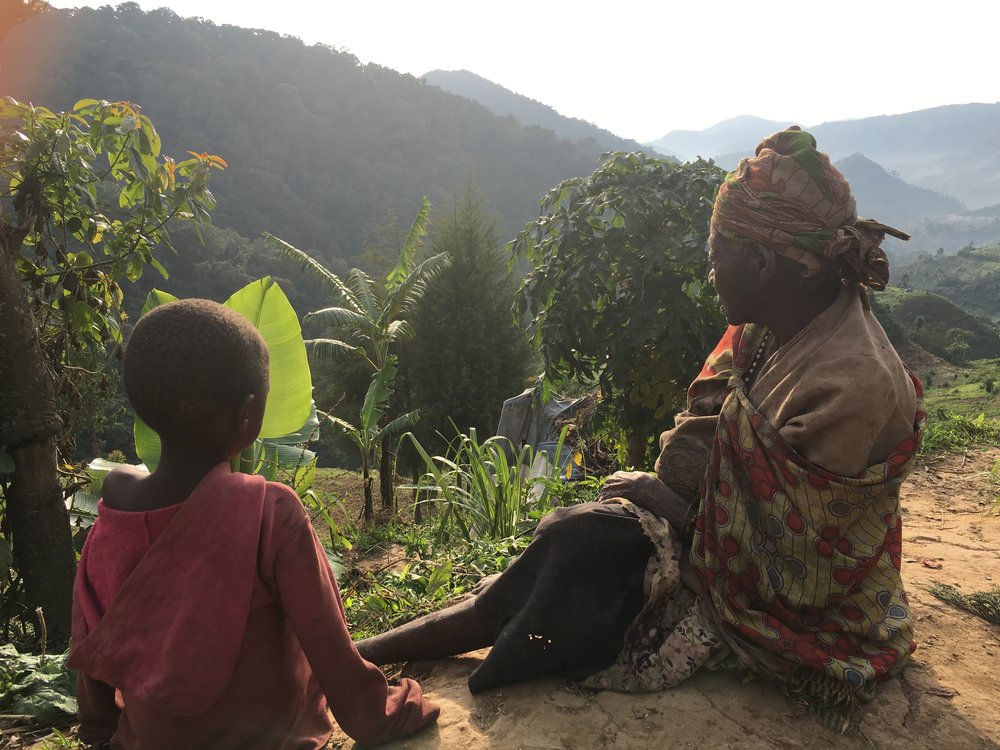 90 year old Batwa woman sits with her grandson on the rain forest edge as she remembers and longs to go home.
IN MAY OF 2004 THE LORD GAVE A WORD:
"...Go forth from your country, And from your father's house, To the land which I will show you...
— Genesis 12:1
And the Word was followed by a vision of being seated on the ground, in Africa, surrounded by orphans. Many years of prayers went up. A seed had been planted. It would be eleven years later, in May of 2015, that the Lord made the Word and vision a reality and the seed that God had planted would begin to grow. The beautiful thing is that the Lord allowed all of it during the month of May. Spring time. A time of planting seeds. Seeds that had been dormant, now springing forth with new life. New beginnings.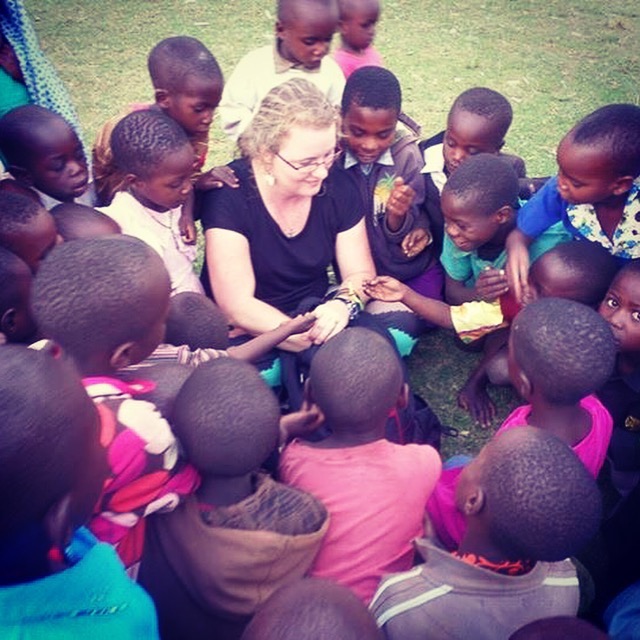 And the vision took life.
Our Mission
Through Hope Ministries Uganda:USA's partnership with Hope Ministries Uganda and Pastor Gerald Tugume our mission is to build awareness of the plight of a forgotten people and to bring the hope of Jesus Christ to them through a holistic approach. Part of this holistic approach is understanding the extreme poverty and discrimination from which the Batwa come from and recognizing that poverty is more then just low income.
WHAT IS POVERTY?
Poverty is about hunger, malnutrition, illiteracy, unsafe drinking water, lack of access to basic health care services, social discrimination, physical insecurity, and political exclusion. It comes down to human suffering.
WHAT DOES IT MEAN TO BE DISCRIMINATED AGAINST FOR THE BATWA?
The Batwa were a people group who depended on hunting and forest gathering. With their eviction from the forest, they were pushed into poverty.
Because other tribes whom the Batwa try to live with do not understand their cultural practices, they choose to hate and discriminate against them.
The Batwa are often humiliated, the children are not allowed in local schools or to receive medical care in local medical clinics.
The Batwa women are denied education in their communities because they are women. Non-Batwa men often rape the women because they believe it will heal them from backache and cure HIV/AIDS.
Extreme poverty. The Batwa often share how when they lived in the rain forest they were never hungry, never sick, never lacking. Life has changed.
"This was a permanent house. Do you see how we lost a lot? Today I am homeless yet my house is there in the forest for free. Since I left the forest I am still homeless up to now, ...Where I stay is from Hope Ministries Uganda that pays my rent. But if I still had this house I wouldn't have a problem." (Jovanis feels that she doesn't really have a home because it is a rented house provided by Hope Ministries Uganda. She doesn't like having to worry if the owner of the home will allow her to stay another month or if she has to find a new home.)
— Jovanis Nyirakayanje, Mutwa from Kisoro District, South West Uganda.
Our mission focus is the four "R's":
REDEEM. The Batwa have been held under captivity of both being separated from God and as conservation refugees. The struggle has been real. The hope is that through being the hands and feet of Jesus, Hope Ministries Uganda will help free the Batwa from captivity and they will discover a relationship with the living God. They will no longer be called unworthy. They have a new name and a new life. God is not done with them.
RESTORE. To restore is to bring back into existence. The Gospel message restores the relationship that God had originally intended to have with the Batwa. It restores families as they learn about how God originally created family. The goal is to restore families as they begin to understand the importance of family and especially the father figure and of course the Father figure. Through restoration of the family, the hope is that child abandonment and the number of orphans will decrease. Through restoration we hope to have opportunities to find land where the Batwa can settle, have a home, and begin a new life through our programs to move towards self sufficiency. Research shows that when families become land owners and can be taught to grow their own food, that the child mortality rate decreases. The Batwa children have the highest mortality rate in all of Uganda.
REBUILD. To rebuild the ancient ruins is a beautiful vision. As the Batwa understand and learn that they have been redeemed and restored, their lives can be rebuilt. The vision that Pastor Gerald has been given has been to do this through education, vocational training, demonstration farms, entrepreneurship programs, medical outreaches, church planting, nutritional food programs for children and nursing mothers, caring for orphans and abandoned children, and counseling and discipling families, men and women.
RAISE UP. The final goal will be to raise up a new generation who will rise up and out of poverty and be restored in their relationship with Jesus Christ. Through rebuilding the ancient ruins and educating local tribes, the Batwa will no longer feel forgotten and hopeless. Hope is rising up.